Galerie d'images
The voice of our customers
30 October 2020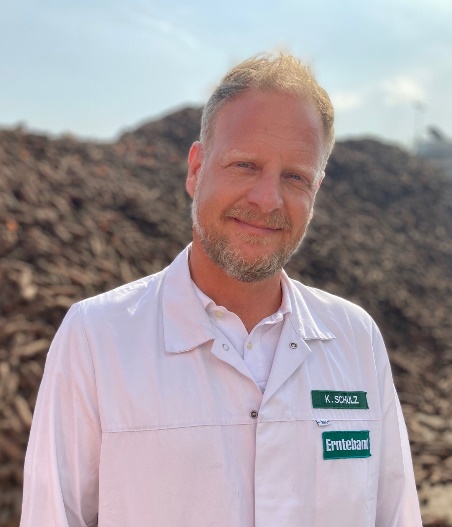 Do you want to improve your production with processing lines able to work 24/7?
Mr. Knud Schulz, from Ernteband, will answer "Choose Boema and its team to find your perfect solution".
Ernteband Fruchtsaft GmbH, near Stuttgart, is one of the companies of Grünewald International, since 1985. The Grünewald Group, born in Austria acts as a strong group of companies with family tradition and as one of the biggest fruit processors in Europe.
Specifically, at Ernteband Fruchtsaf the core of its production is apple, pear, and blackcurrant, but also vegetable products, like carrots and beetroots, are produced here for use in the food industry. Ernteband daily transforms large quantities of domestically grown fruits and vegetables into juice and purees – these products are the basis for the manufacturing of first-class products for the national and international food industry and therefore the machinery needed should satisfy these premises.
We had the chance to cooperate with Mr. Schulz for a complete line to process carrots and beetroots for puree intended for the production of juices.
Mr. Knud Schulz, Plant Manager of Ernteband, reports: "Gruenewald group works with Boema for many years. At Ernteband Fruchtsaft GmbH we installed the first Boema complete line on the carrot & beetroot processing area and it worked perfectly. Enhancing quality and efficiency is a major goal of Ernteband, for this, we started to evaluate to install a new process line. Naturally, Boema was our first choice for this new project, as its trustful experience in the past with us, we started to study together the best layout and an optimal solution for our needs. Boema team accompanied us from the preliminary stage to the start-up, until the positive commissioning of the line. Actually, we have improved capacity, automatization, and control of the line, so we can run 24/7, with fewer operators than what necessary before. We are fully satisfied by choosing once again Boema!".
Boema supplied the first steam peeling line to Ernteband, the revolutionary steam peeler Mod. SPB with the inner rotary basket for a complete separation product/condenses, in 2009. The line was completed with brushing, milling, and heating sections.
Ten years later, Boema's steam peeler is still the most performing peeling solution that combines the highest yields with the lowest steam consumptions.
Furthermore, Boema matches the steam peeling expertise with deep competences in the puree and juices industry, and thanks to this we are a key supplier for many carrot & roots processors across the world. That's why Ernteband continues to choose Boema and installed in 2019 the second peeling line.
Scroll the gallery to see the pictures.
Many thanks to our special customer!